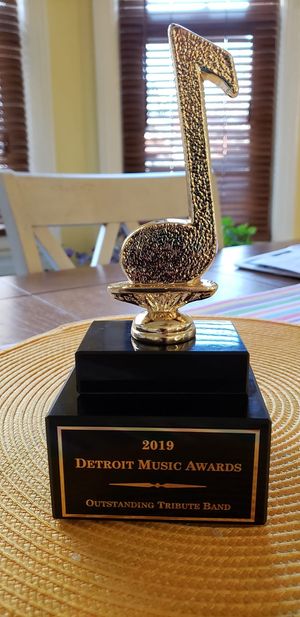 2019 is shaping up to be a big year for Major Dudes. Now that winter is finally in the rear view spring got off to a great start, first, with a packed house at Otus Supply on April 5th, where the band was hot and the crowd was with us every step of the way. We've had some great responses in the past for our shows but this one really took the cake.
Later in the month, Jim (drummer), Carl (sax) and I (bassist Paul, natch) attended the annual Detroit Music Awards. Why? Well, we were nominated for a second time in the Outstanding Tribute Band category and had to represent, even though we figured the result would be the same as in 2018. Nope. Surprise, surprise. We won! It really was quite the thrill. And unlike in 2018, where the tribute band award was presented before the main event, this time our category was presented during the big show at the Fillmore so the three of us climbed up on stage and all did a little bit of speechifying as we accepted our award. Fun. 
Coming soon (May 14th to be exact) is our big show in Allen Park opening up for one of the world's finest progressive rock bands, Chicago's District 97. The big night will also include a set of Dudes' guitarist Waldon Reed original fusion jazz. Should be a blast. And then...summer!